In a survey conducted by NTT Europe, 81 percent of CIOs said their IT equipment is the "biggest hurdle" to cloud adoption.
NTT Europe interviewed 300 CIOs and senior IT decision makers for a report titled "Growing Pains in the Cloud" (registration required). Nearly 60 percent of respondents said the complexity of their internal systems is the greatest obstacle in their move toward cloud services. The survey also broke out respondents by industry; 70 percent of executives in the public sector cited complexity as the biggest obstacle.
Damian Skendrovic, NTT Europe's vice president of cloud services and author of the report, attributes this to the higher prevalence of disparate and heterogeneous legacy systems in government offices.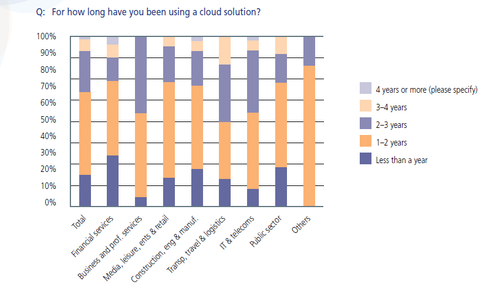 As you can see in the chart, most of the respondents have been using cloud services for only two years or less. Skendrovic sees European enterprises adopting specific cloud services or SaaS applications on a tactical basis, but they're holding off from porting their mission-critical apps and data. He writes:
The primary challenge of rolling out enterprise clouds is chiefly down to the complex interdependency of the systems involved, rather than skills or geography… Whilst CIOs understand the benefits of cloud to most areas of business computing, they will not move their "business engine" -- the bundles of applications and data which sit at the heart of most businesses -- into the cloud, until the issues around complexity and security are resolved.
That's not to say that demand is low; only 6 percent of the respondents said they'd never integrate a cloud service into their IT. Most are using some cloud services or planning to adopt one within the next 1-3 years.
The report concludes with several recommendations for cloud providers and enterprises to allay fears and ease the transition to a business-aligned IT strategy:
Don't rip and replace legacy systems. Hybrid environments will be the new normal.
Look for hybrid solutions that offer centralized management and security.
Consider each application separately to determine whether it's economical and productive to run on cloud resources.
Work with your service providers to determine a phased modernization and implementation roadmap.
Define metrics for business outcomes and service levels and design cloud services around them, instead of choosing off-the-shelf solutions.
Check that the provider is compliant with regulatory and industry requirements, as well as your internal risk and security policies.
Make sure you have full visibility into any processes and activities that have been offloaded to the CSP.
Members, how do European enterprises compare with American firms? Is legacy IT complexity a problem at your company? Share your experiences and advice with us in the comments.
Related posts: